The Preeminent Case, Matter
&

Practice Management solution available for law firms, corporate legal departments

&

government agencies


LawBase is currently being used by thousands of users worldwide to track progress, maintain client files,
keep complete calendars and schedules, maintain file room management and perform large repetitive tasks
with just a few keystrokes – in a fraction of the time it used to take, saving time and money.
LawBase offers bi-directional integrations with HotDocs® and Microsoft® Outlook®, as well as many other applications.
LawBase organizes information and handles complex workflow processes better than any other solution on the market.
Reporting is fast and easy, so you can create reports on the fly, monitor activity in real time and export information in many ways.
IT Application Analyst at Goldberg Segalla, Amy Bernardon has used LawBase for years and talks about how the software has been an asset to her company.
I was the first LawBase user in 1981. Back then, it was one of a very few case management programs available. But even now, in a market filled with really worthwhile alternatives, Lawbase is the best total system that I have ever seen. To me, LawBase is by far the best choice.
In a period when all other agencies were requesting additional staff to handle an increasing workload, we maintained our staff level. In fact, our caseload has increased significantly over the last three years, yet we have been able to handle the increase without hiring additional staff!
LawBase has allowed us to do an better job of tracking files and is an integral part of our automation for the legal department.
I have no doubt that but 20 years ago LawBase put us ahead of the technology curve. Now, with the latest version of LawBase, I believe that we are once again on the cutting-edge of technology. I am finding that LawBase allows us to integrate all those applications that have come forward over the last 20 years including the internet, e-mail, imaging, etc.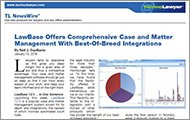 LawBase Reviewed by TechnoLawyer – January 13, 2016
TL NewsWire is a weekly newsletter that discusses and links to hot new products and services of interest to legal professionals.  |  Download the PDF » »